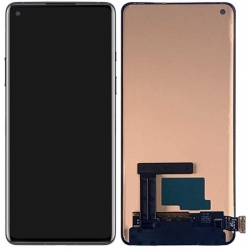 -21 %
Oneplus 8 Pro LCD Display With Touch Screen Module - Black
Product Details
The OnePlus 8 Pro LCD Display with Touch Screen Module is a high-quality replacement part designed to replace a damaged or malfunctioning display on your OnePlus 8 Pro smartphone. This module includes both the LCD display and touch screen digitizer, making it easy to restore the full functionality of your device with a single replacement.
This LCD display module is a genuine part of OnePlus 8 Pro and features the same specifications as the original display. It provides crystal-clear image quality and touch responsiveness, ensuring that you can use your phone without any issues.
The module is designed for easy installation and can be installed by following simple instructions. However, it is recommended to seek professional assistance or the nearest service centers for proper installation and repair of your OnePlus 8 Pro smartphone.
If you're experiencing issues with your OnePlus 8 Pro display, such as dead pixels, discoloration, or a cracked screen, this LCD display module can help restore your phone's functionality and appearance. It's a cost-effective solution compared to purchasing a new device, and it's backed by a warranty for your peace of mind.

---
Model : Oneplus 8 Pro
Part : LCD Screen With Digitizer Module
Colour : Black
Quality : OEM
Warranty : 10 Days*
Delivery : 10 Working Days
---
Shipping Methods
Please do note that we ship all orders through Bluedart, FedEx, DTDC, Aramex, Professional and Overnite courier Service. In case of no service we dispatch your orders via Speed Post, which is also trackable.
---
Tracking Your Order
For anyone registered with Cellspare, you can conveniently track your orders progress from the time it is ordered to the time it is delivered and signed for simply by looking at your order's status.
---
Know Our Warranty Policy Before Shopping On Our Store.
Stock:

In Stock

Model:

Oneplus 8 Pro

OnePlus