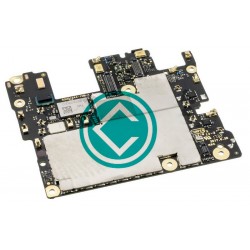 Google Pixel 2 128GB Motherboard PCB Module
Product Details
This Google Pixel 2 128GB motherboard PCB replacement module is specifically OEM-made for the Google Pixel 2 128GB model and serves as a replacement for your malfunctioning mainboard. Replace your old, non-functioning motherboard with this genuine, brand-new replacement module from Cellspare.
It has been thoroughly tested and comes in its original packaging. We offer the best price for authentic parts. Cellspare provides this part in a completely tested, brand-new condition, complete with its original packaging, which is ideal for repairing or replacing old, damaged, or non-functional boards. You can count cellspare for original parts at the most competitive prices.
---
Brand : Xiaomi
Model Name : Redmi K40 Gaming
Part Name : 128GB Motherboard PCB Module
Part Condition : Brand New
Quality : OEM (Original Equipment Manufacturer)
Pre-installation Test : We tested before ship
Warranty Period : 10 Days Replacement / Refund
In The Box : 1.Pcs 128GB Motherboard PCB Module
Delivery Time : 3 To 10 Working Days
---
How Tracking Your Order
You've made your order on Cellspare.com, and now you're eagerly awaiting the arrival of your much-needed replacement parts or cellphone components. The good news is that tracking your order has never been easier. Here's how you can keep an eye on your shipment, step by step
Order Confirmation: After you've successfully placed your order on Cellspare.com, you will receive an order confirmation email with an estimated delivery date. This email contains essential information, including your order number and a link to the tracking page.
Access the Tracking Page: After dispatching your product from Cellspare, we will send you a tracking number that you can use to track your order on the courier company's website. You can also click on the "Track Order" button on the right side of the website and enter your order ID to track your order's real-time status.

Contact Customer Support: If, at any point, you have questions or concerns about your order's progress, or if you encounter any issues with tracking, feel free to reach out to our customer support team. They are here to assist you and provide updates as needed.
---
Shipping Methods
At Cellspare.com, we understand that when you need replacement parts for your valuable mobile phone, a seamless and reliable shipping experience is paramount. That's why we've partnered with some of the most reputable service providers in the industry to ensure your orders reach you safely and efficiently. Let's explore the Cellspare.com shipping methods and the trusted service providers behind them: Cellspare ships all orders worldwide using a variety of courier services, including:
• Bluedart
• FedEx
• DHL
• Aramex
• DTDC
• Overnight
• Speed Post
If Cellspare does not offer service to your location, they will ship your order via Speed Post, which is also trackable.

Once your order has been shipped, you will receive an email with the courier company name and tracking number. You can use this information to track your shipment online.
If you have any questions about Cellspare's shipping methods, please contact their customer support team.
---
Why you might need to replace Xiaomi Redmi K40 Gaming motherboard.?
Hardware Failure: If the motherboard fails, it can cause a variety of problems, such as booting issues, display flickering or discoloration issues, overheating,.stuck in loading and connectivity problems. Replacing the motherboard can fix these issues.
Water Damage: If your phone gets wet, water damage can severely affect the motherboard. If your Xiaomi Redmi K40 Gaming has been exposed to water or other liquids and is not working properly, you may need to replace the motherboard to get it working again.
Physical Damage: If the motherboard is damaged due to a fall, impact, not boot up correctly, leading to constant glitches and system errors. or other accident, it may need to be replaced to ensure that the phone works properly.
Performance upgrade: In some cases, people may choose to replace the motherboard to improve their phone's performance. This could involve installing a more powerful or more feature-rich motherboard to make the phone better.
Software corruption: While software problems are often fixed with updates or resets, freeze or crash frequently or severe software corruption can sometimes make the motherboard not work. In these cases, replacing the motherboard may be the only way to fix the problem.
Compatibility: You may also need to upgrade or change the motherboard if you want to use a different type or version of the Xiaomi Redmi K40 Gaming motherboard. This can make it compatible with certain networks, technologies, or features.

It is important to diagnose the specific problem you are having with your Xiaomi Redmi K40 Gaming phone and talk to a professional technician or the phone's manufacturer to find out if you need to replace the motherboard and what the best thing to do is.

Stock:

In Stock

Model:

Google Pixel 2

Google